General Bipin Rawat has become India's First Chief of Defence Staff. Government has appointed General Bipin Rawat, as the First Chief of Defence Staff (CDS) with effect from December 31, 2019. General Bipin Rawat got commission into the Indian Army in December 1978. He has served as Chief of the Army Staff since January 01, 2017.
India's First Chief of Defence Staff Gen Bipin Rawat
The CDS is a four-star General, and CDS will act as:
The principal military advisor to the Defence Minister
Head the New Department of Military Affairs to ensure jointness in training, logistics and procurement of the three services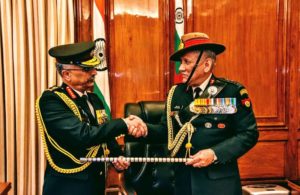 About General Bipin Rawat:
General Bipin Rawat, PVSM, UYSM, AVSM, YSM, SM, VSM, ADC (born 16 March 1958) is a four-star general and the current Chief of Defence Staff of India. On 30 December 2019, he was appointed as the first Chief of Defence Staff (CDS) of India and assumed office from 1 January 2020. Prior to CDS, he served as Chairman of the Chiefs of Staff Committee as well as 27th Chief of Army Staff of the Indian Army.
Chief of Defence Staff (India)
Chief of Defence Staff (CDS) is the professional service chief, and also head of the Indian Armed Forces and the senior-most uniformed military adviser to the Government of India. The position was first officially suggested in 1999 following the Kargil War through the recommendations of the Kargil Review Committee. Although a long-talked-about position in India, the official call was made public by Prime Minister Narendra Modi during his Independence Day speech on 15 August 2019 at Red Fort, New Delhi. On 24 December 2019, the Cabinet Committee on Security (CCS) formally announced the creation of the position, a four-star general, a tri-service Chief, that shall lead the defence forces as well as take up other roles such as the Head of the Department of Military Affairs under the Ministry of Defence.
It is considered that the Chief of Defence Staff is a critical position in today's era of hybrid warfare, and will help increase jointmanship, tri-service effectiveness and overall combat capabilities of India. It is speculated that whereas the Defense Secretary will be the main "defence" advisor, the CDS will assume the role of being the main "military" advisory, acting as the single-point military advisor to the government and Prime Minister. India was the only large democracy which did not have a single point military advisor; like all P5 countries having one.
The CDS will also come under the Right to Information Act.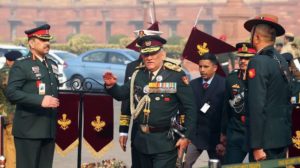 India's First Chief of Defence Staff Gen Bipin Rawat
Also, see