Major Mukund Varadarajan was born on 12 April 1983 to R.Varadarajan and Geetha. He lived in Chennai and had two sisters Swetha and Nithya. Mukund married his longtime girlfriend Indhu Rebecca Varghese on 28 August 2009, and have a daughter Ashreya born on 17 March 2011.
Varadarajan, Major Mukund's father, worked in a public sector bank, but His grandfather and two of his uncles had served in the army and many of his cousins were in the Indian Air Force which motivated Varadarajan to enlist. He too wanted to join the IAF like his cousins but was dissuaded from doing so by his parents because he was their only son.
As Mukund was so passionate about joining the Defence, Varadarajan thought of admitting him to a Sainik School. But he had to abandon the idea when he was transferred to Alappuzha from Thiruvananthapuram. After school, Mukund got a bachelor's degree, and then a master's in mass communication and journalism. His father thought he had forgotten about the army. But Mukund surprised his parents by taking a Short Service Commission after spending a month working in a call center. He passed out of the Officers Training Academy with high honors in 2004.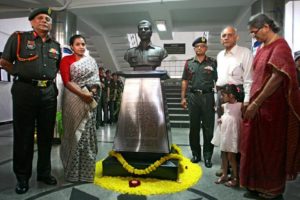 About

Service:
---
After getting commissioned as a Lieutenant in the Rajput Regiment (22 Rajput) in 2006. He served at the Infantry School in Mhow, Madhya Pradesh, and was part of a United Nations Mission in Lebanon. In December 2012, he was deputed to the 44th Battalion of the Rashtriya Rifles and posted in the Shupiyan district of Jammu and Kashmir.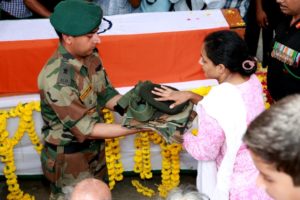 Shopian Operation: 25 Apr 2014
---
During 2014, Major Mukund's unit was deployed in the Shopian district of J & K and was engaged in counterinsurgency operations on a regular basis. On 25 Apr 2014, information was received from the intelligence sources about the presence of some hardcore terrorists in a Kaajipathri village in Shopian district. It was decided to launch an operation to flush out the terrorists under the leadership of Major Mukund Varadarajan. As planned Maj Mukund swung into action along with his troops and cordoned off the suspected area. The intelligence information also suggested that the same terrorists were responsible for killing election officials 24 hours earlier.
The heavily armed terrorists opened fire on the assault team on being challenged. Major Mukund in a swift action shot and killed one terrorist, simultaneously directing the fire of his troops. During the heavy exchange of fire, Maj Mukund got seriously injured, but with total disregard to his injuries, he crawled forward and shot one more terrorist down. He showed remarkable courage and leadership despite bleeding profusely and continued to direct his troops. However, Major Mukund succumbed to his injuries and was martyred.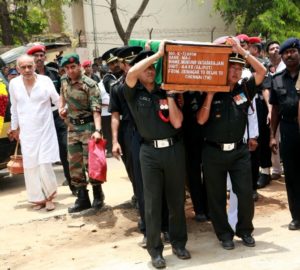 For his brave actions during the operation, he was posthumously awarded the Ashok Chakra, India's highest peacetime gallantry award in 2014, for displaying valor beyond the call of duty. The citation by the Government of India during the declaration of the Ashok Chakra read:
"During the operation, before attaining martyrdom, Major Mukund displayed exemplary leadership skills, raw courage, planning and swift action, which culminated in the elimination of the three top ranked Hizbul Mujaheddin terrorists".
Mukund is the fourth recipient of the Ashoka Chakra from the state of Tamil Nadu.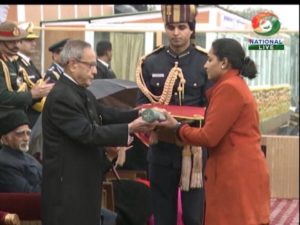 Major Mukund Varadarajan was awarded Ashok Chakra (Posthumous) for an act of Gallantry in J & K.

Here are Mukund and Arshea singing along with the movie track that uses Subramanya Bharathiyar's lines
Fear I have not, fear I have not,
Even if the entire sky breaks,
And falls on my head
Even if they judge me as the worst,
Fear I have not, fear I have not.

Also, See: