"To be heroic is to be courageous enough to die for something; to be inspirational is to be crazy enough to live a little". Yes, you heard it right! Navin Gulia says "I win every battle in my life because 'Giving up', is an option I never give to myself". Read about Navin Gulia-An Inspiring Story for everyone.
Navin Gulia is an Ex-Army Officer and a World Record Holder in Adventure Sports. He is a multiple award-winning, internationally acclaimed, Author, Adventurer, Thinker, Orator, and Social Worker.
He is a World Record Holder in adventure driving, for driving non-stop from New Delhi to the world's highest mountain pass Marsimik La at 18,632 feet height, in 55 hours of non-stop driving. A record that stands unbeaten till today.
He is a writer and writes in three languages. His English book 'In Quest of the Last Victory' published by Pearson Longman is a best seller in its category and so is his Hindi book 'Veer Usko Janiye' published by Prabhat Prakashan.
He is a social worker and runs an organization called 'Apni Duniya Apna Ashiana' for the welfare of underprivileged children.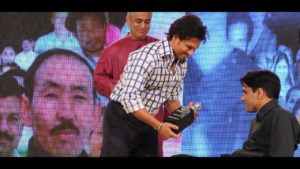 Journey From Underachieving Student To IMA:
---
As a child, Navin Gulia was a below-average student, and physically weak, he never participated in sports. The constant snubbing by his classmates led to a lot of frustration and one day, he decided to work on his shortcomings and soon he became one of the most accomplished sportsmen in his school.
Navin Gulia hails from a family of Army officers. So, since childhood, he was keen to join the Indian Army as a "Commando". After completing his schooling, he joined NDA and underwent 4 years of tough training in NDA and IMA.
He joined IMA at the age of 18. On the final day of his Officer Training competition, on the evening of April 29, 1995, he leads his company "Sangro". With an impressive start, he crossed an 8 feet ditch, the zig-zag balance, and ran-up the steps of a high ramp. But, as he reached the top, he accidentally falls behind. Young gentleman cadet Navin Gulia suffered a near-fatal accident, because of that, his spinal cord got injured causing paralysis to his whole body. The doctor declared him 100% disabled. The injuries were so grave that doctors declared he would not survive more than three days. When he injured his spine during the final obstacle training competition, he was just one step away from becoming an army officer. The accident left him paralyzed from the waist down.
How He Fought Battle with his own Life and Won:
---
After the accident, he was immediately rushed to ICU, MH Dehradun. Later, he was airlifted to Army Hospital, Delhi. There he was operated upon and transferred by air to MH, Kirkee, which is a hospital specializing in Spinal Injury. The next four months involved a lot of obstacles and he fought his way through. Four months in the bed, totally immobile, but, he rediscovered his mental abilities in this situation. He carried out mathematical calculations in his mind (multiplying two-digit, three-digit, and four-digit numbers). He played chess on an imaginary chessboard.
This increased his mental abilities tremendously. And yes, he cracked a lot of jokes, something he always liked. After four months he was able to sit up and made to sit in a wheelchair. One day he overheard the Doctor telling his parents that "One day maybe, he will be able to move his wheelchair himself". Today he has practiced flying a microlite aircraft and has over one lakh kilometers of driving (a car) under his belt. Navin Gulia has also driven to the highest motorable road in the world 'Khardung La' at a height of 18,350 feet, which is 50 feet higher than the base camp of Mt. Everest.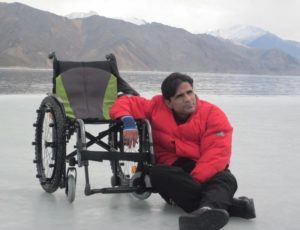 Living Life On His Own Terms:
---
After his recovery, he completed his Masters in Computers in 1999. While his batchmates got placed in many big organizations, still he chooses not to take up a full-time job. Instead, he began teaching computers to disabled soldiers at the National Defence Academy.
Navin Gulia was always an adventure-seeker. He wanted to live his life, take risks, have free time to follow his heart because he believes one has a limited time here. In the past 18 years, he has flown hang-gliders and adventure aircraft, driven over 1 lakh kilometers on adventure expeditions, and worked for a cause close to his heart… Mr. Gulia's incredible experiences have been chronicled in his books In Quest Of the Last Victory and Veer Usko Janiye.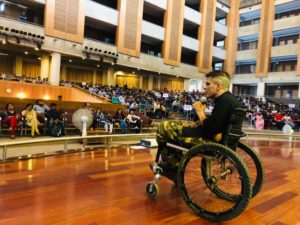 Positivity Does Not Come Easy:
---
Often, people tell Navin Gulia that they would not have been able to do what he has done. Mr. Gulia believes that we should never say those words because then our mind starts believing it and one will not be able to face anything in his life. He did not always have a positive mindset, He also had to cultivate it over the years, as it requires constant hard work.
Navin says, "Today, I have no complaints. The people who have more complaints from life are those who play safe". Because when you are taking chances, you know the possible outcomes and you still go for it. When people come to me looking for motivation, I just ask them one thing. Tell me about your action plan. Let's discuss the solution and not waste time shedding tears over the problem. I follow a simple and practical approach to life.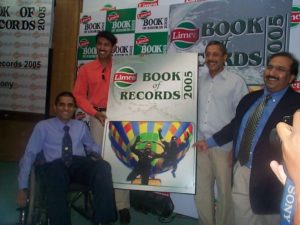 Awards:
---
State Award for Adventure Sports 2004

Chief of Army Staff Commendation 2005

Times of India 'Global Indian' 2005

Limca Book 'People of the Year' 2005

Cavinkare Ability 'Mastery Award' 2006

President's 'National Role Model' Award from Dr. APJ Abdul Kalam 2007

Karmaveer Chakra from the international confederation of NGO's in 2009

Godfrey Phillips 'Mind of Steel' 2010

Karmaveer Puruskar 2011

CNN IBN 'Real Heroes' Award 2012
Indira Krantiveer Puruskar 2012
'Pearls of India' by The WEEK' Magazine
"World Peace Campaign Award" – Yogmata Foundation
"Karmaveer Puruskaar" KBC, Shri Amitabh Bachchan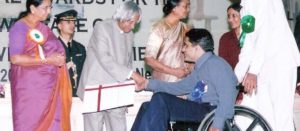 ADAA (Apni Duniya, Apna Ashiana):
---
Navin Gulia believes that the progress of a country should not be measured by a successful mission to Mars, but by what we do for those at the lowest rung of society. In 2007, he founded ADAA and began working for children involved in begging and living in hutments in Gurgaon, and later children from nearby villages. His efforts are to help, assist, and guide the lives of street children, orphans, physically handicapped, and destitute children.
Navin Gulia knows something about helplessness. Paralyzed from the waist down after a freak accident, Navin could have chosen to fall back on the support of his family and live out his life as a dependent, thankful that the familial fabric is still strong in India. Instead, Navin turned his disability into a life-affirming force, modifying a car to suit his hands and conducting expeditions to the remotest places on the country.
One day the plight of street kids in his hometown of Delhi caught his attention. At first, he started donating clothes and food out of his own pocket. Often he would give a sweater to a street kid, only to find the child shivering the next day in the cold in the same old rags (the more pathetic the child, the better its prospects). "It is a terrible form of exploitation," says Navin. He began to spend time with the kids, trying to coax some real information about their situation. He found that many of them earned Rs.250-300 a day, way more than their parents would have been able to make as day laborers. "It is easy money, and by contributing to it, you are perpetuating child abuse."
"How have our children ended up as begging machines? Managed by an elder, these children are kept looking pathetic deliberately to increase their begging potential. If you want to help, give them something to eat, not your coins."
Finally, he decided to do something for these poor kids and laid the foundation of ADAA (Apni Duniya, Apna Ashiana) in December 2007.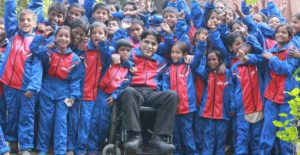 In Quest of the Last Victory:
---
This is the title of Mr. Gulia's recent book. Gulia writes about all this and more in his book. He described it as the story "of an under-performing child who transforms himself through hard work to excel in sports and academics; of a young man, when left paralyzed below the neck, uses the same qualities of self-motivation and the need to prove himself to claw his way up inch by inch." True, as he journeyed from being a gangly kid with a load of self-doubt to a young adult who would forever try to make the cut, from an under-dog to an achiever, life prepared Gulia for what was to come.
He narrates it in anecdotes of meticulous detail with precise analysis. It is a story told well, with little mush. The book delineates his philosophy of acceptance without compromise. It gives you his concept of "infinite ability" and in some ways, lays out a blueprint for living life well.
"Calling Navin a role model for the differentially abled would not be enough. He is a role model to all of us, with dreams that we don't always have the courage to pursue; restricted by our own acceptance of our limitations."
He is a living example of his favorite legend: Our ability never restricts us, our thoughts do. If we think we can, we can.
You can contact him on his website.
Also, See: