UPSC has published the NDA 2021 Exam Dates & notification dates for both NDA 1 2021 & NDA 2 2021 in its calendar, published online on the official website of UPSC. NDA exam is conducted twice a year at various centres all over India, Candidates pursuing their senior secondary or who have passed can apply for this examination. The written examination for NDA 1 2021 will be conducted by UPSC on 18th April 2021 and for NDA 2 2021 on 5 September 2021 across the country for joining Indian Army, Indian Air Force and Indian Navy wings of the NDA for the 147'th & 148th course respectively, and for the 109'th & 110th Indian Naval Academy course. Below are the important dates for UPSC NDA & NA 2021 recruitment process.
[table id=19 /]
Educational Qualification:
---
For Army wing of NDA: 10+2 exam passed, conducted by the state board or the central board.
For Air Force and Naval Wing: 10+2 exam passed, with physics and Mathematics as compulsory subjects, conducted by the state or central board.
Candidates who are appearing in the 12'th class under the 10+2 pattern of school education or equivalent examination can also apply for this exam.
Candidates appearing in class 11'th are not eligible for this exam.
Those candidates who have yet to qualify in the 12th class or equivalent examination and are allowed to appear in the UPSC Examination should note that this is only a special concession given to them. They are required to submit proof of passing the 12th class or equivalent examination by the prescribed date and no request for extending this date will be entertained on the grounds of late conduct of Board/University Examination, delay in declaration of results or any other ground whatsoever.

Age Limit:
---
Well the official age limit for joining NDA is 16½ to 19½. But let me clear this fact that this is incomplete information you people are having. Most of the people would be thinking that they can appear for NDA till they are 19½ years old, but this is a myth. Now the thing is that you can appear for the exam till 18½ years because the age limitation is for the day you join NDA or we can say at the day you step in NDA you should be less than 19½. After the written exam, you have to go through SSB interview, and finally if you can make up to that and you get recommended you are required to join NDA before you turn 19½ years. After the exam notification whole procedure of exam, SSB, and allotment of joining date are of about 1 year.
NDA 1 2019 Official Cut Off Marks:
---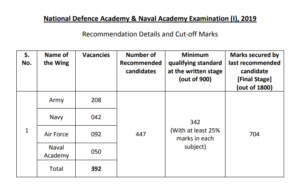 Click here to download the NDA 2021 Exam Dates calendar
Also read: