The interview is a very important pillar of the SSB Interview. It actually plays a vital role in deciding the recommendation of a candidate in the SSB Interview. An IO (Interviewing Officer) has different ways of testing whether the person is mentally and emotionally fit enough to be an officer or not. There are some rapid fires that sometimes confuse the candidates and the time candidate starts responding from their sub-conscious mind then it helps IO to decide the selection or rejection of the candidate. The candidates would need to grasp the questions being asked and respond in the same order as they were asked. Generally, the questions asked all at a go is divided into 6 CIQs in SSB Interview or Comprehensive Information Questionnaire.
CIQ-1
---
The first CIQ is generally related to your academic performance and participation in sports and games. The questions will go something like this:
"Your academic performance starting from your 10th class till graduation. Your academic scores in each class and semesters. State your academic achievements if any. Teachers you liked and why do you like them? The teachers you didn't like and why so? The subjects you were weak in and how did you improve on them. Who are your best friends and why? Tell your friend's one good and one bad quality. Tell one quality from each of your friends that you like and want to learn. The games and sports you participated in. Extra co-curricular activities you took part in, state your achievements in these if any."
CIQ-2
---
This CIQ is related to your relations with your family/neighbors and how you spend your time with them. The questions would be something like this:
"Who all are in your family and what about their occupation? Do you stay with them or not? If not then how often you visit them and when? What activities you do together and how do you spend time with them? Who are you closer to your mother or your father? Who do you approach when you require help or are facing any problem? How do you help your parents at home? If you have any monetary need who do you approach? How do you spend your money and how do you save? If you have neighbors what are your relations with them?"
It is always a good practice to ask IO "have I missed any question, sir" after answer the questions.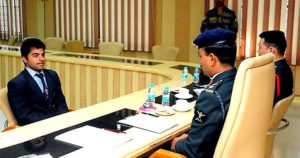 CIQ-3
---
This CIQ deals with your hobbies and interests and how do you spend your spare time:
"What is your routine during weekdays? What is your routine during weekends? How you spend your spare time what are your hobbies? Questions related to your hobbies. What are your interests? Questions related to your interests. What are the activities you take part in your family or society during any festive days? Why didn't you consider your hobby as your career path? If you had some more spare time how would you spend that?"
CIQ-4
---
In the 4th CIQ, the questions are related to your hobbies/interests in-depth, GK and Current Affairs. The questions will go something like this:
"What sports you play and at which level did you play it? Your achievements in the sport? Specific rules and regulations of that sport. Any current affairs related to that sport. Capt of the Indian Team for that particular sport and when & where were the last tournament played? Why do you like that sport? What did you learn from sports activities? What extra co-curricular activities you participated in? Why did you choose these activities over others? What has been your achievement in them? Famous Indian personalities in them if any. The major news of the day or the last week or the last month. India's geopolitical situation and relations with different countries. Main headlines of that day's newspaper. International news related to India. Physical geography. Questions from current affairs."
CIQ-5
---
In this CIQ, the IO is interested to know about yourself and your performance in the previous tests:
Which test did you like in psychological testing and why? Rate your performance in psychological testing and why? Which task do you like in GTO and why? Rate your performance in GTO out of 10. In which area do you think you performed better psych or GTO. What are your strengths and weaknesses? What have you done to overcome your weaknesses?
This is just to know how aware you are of yourself and how well do you want to improve yourself.
CIQ-6
---
This is an optional CIQ asked in SSB Interview and IO generally covers these questions in the previous 5 CIQs. It deals with how willing are you to join the defence forces. The questions asked might be something like this:
"Tell some recent defence major developments. Questions relating to the service like rank structure and types of equipment. Difference between different arms and services within the force. Which arms or service would you like to join and why? Where is the training and what is the duration of the training if you get selected? Why do you want to join defence services? Why didn't you get recommend in your previous attempts? How is this attempt different than your previous attempts. What will you do if you do not make it this time? What are your alternate career options?"
With these CIQs asked in SSB Interview, the IO would conclude the interview and might ask you whether you have any questions to ask. He will ask you to leave at the end.
Now that you know the questions asked, you just need to remember the sequence and answer accordingly. Also, pay attention to the questions asked. Be short, crisp and to the point.
Good Luck
Rashtra Defence Academy
Also, See: