Indian army young officer Major Anuj Sood sacrificed his life in the Handwara operation on 02 May 2020. Major Anuj Sood led the operation along with his CO Col Ashutosh Sharma and bravely fought the terrorists to save the civilians trapped inside a house. Highly reliable official sources told that after an initial fierce firefight, there was a lull following which five security men—a Colonel namely Ashutosh Sharma, a Major namely Anuj Sood and two soldiers of 21 Rashtriya Rifles besides a Sub Inspector namely Mohammad Sagier Qazi of J-K Police's Special Operation Group —moved close to a cowshed near the house where the terrorists had taken refuge after escaping from nearby Rajwara forests on Friday afternoon. However, there was a standoff between them and terrorists amid inclement weather. The five army men lost contact with colleagues on 'tour of duty'. All the civilians were saved and terrorists were killed. India lost 5 brave soldiers in this operation.
All brave men sacrificed their lives while saving local civilians who were trapped inside a house in Handwara. Major Anuj Sood was a brave young officer who followed his commander until his last breath and led from the front. Here are some inspiring facts about Major Anju Sood that will motivate generations to come.
Major Anuj Sood was a second-generation officer and always motivated to join the armed forces. He was the alumni of the PPS Nabha. Major Sood, who studied at Punjab Public School (PPS) Nabha (Batch-2007), was nicknamed as 'Fauji' in the school. He was selected to join IIT but preferred to join NDA. He topped all classes in PPS Nabha.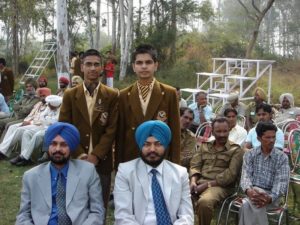 Major Sood was born on December 17, 1989, in Bangalore where his father was posted at that time. After his school education, he got admission into the National Defence Academy (NDA), Pune, in 2012. He joined the NDA Alpha Sqn 120 course and got commissioned in Brigade Of The Guards from the Indian Military Academy IMA 130 course. He was the NDA torch holder for all the six terms which is a unique distinction. Being an infantryman he has done his M.Tech from IISc Bangalore and topped with distinction.
Major Anuj was an excellent student, EX-NDA(120/A), meritorious officer, JC did 2 years ago. He did extremely well in courses. He also got the Best student award in one of the courses. He also did ADC tenure in Dehradoon.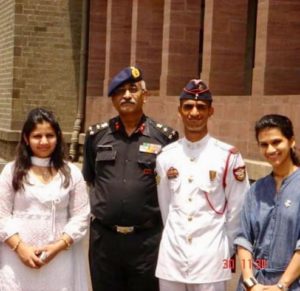 Major Anuj's sister Harshita is also serving as a Captain in the army. She is a national-level shooter and is currently undergoing training at the Army Marksmanship Unit at Mhow, Indore. His elder sister lives in Australia while mother Suman is working as a principal in a government school in Yamunanagar.
"He has made a supreme sacrifice. It was part of his duty & what he was trained for. I feel sad for his wife as he got posted 3-4 months after marriage. He was meant to save lives." Said Rtd Brig Chandrakant Sood, father of late Major Anuj Sood, who lost his life in an encounter in Handwara.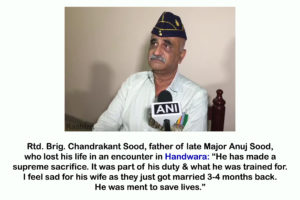 Col Ashutosh Sharma and Major Anuj knew each other since IMA days! When on battalion trip to J&K in 2011, Col Ashutosh (then Major) was the officer in charge to brief the whole trip, from then only they had kind of bond between them, fortunately, Major Anuj was commissioned into the same battalion from which Col Ashutosh belongs! An excellent student, EX-NDA(120/A), meritorious officer, JC done 2 years ago, is no more with us. Finally, both left this world in the highest tradition of the army together!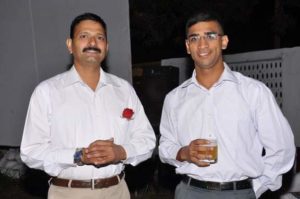 The 30-year-old wrote this in a recent social media post to describe the "life of a soldier"."When you are older, you will realize the only thing that matters… that you had courage and honour. Lose those things and you won't die any quicker, but you will be less than the dirt on your boots. you will still be dust, but you will have wasted your short time in the light #lifeofasoldier".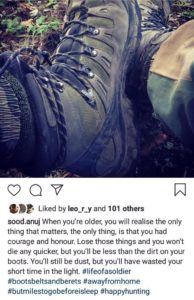 Also, See: