Before discussing the tips for Taking Air Force & Navy Online Exams, ask yourself a question- Are toppers or selected candidates more talented than you or they read different books? We can surely say that your answer will be 'NO'. If it is 'YES', then please change your mindset. No one can bring success to a defeated man. Hence, Practice like you have never won, and perform like you have never lost.
Air Force and Navy have been conducting the online exams for the last few years. For some students, taking an online exam is a new and somewhat bewildering experience. They don't know what to expect and aren't certain of the skills and strategies that will enable them to perform at their best. On a good note, many of the steps they'd take to complete an online exam are quite similar to that they'd engage in as they prepare for an offline exam; however, the online environment does present some differences that warrant a bit of extra awareness and preparation. Through this article, we have tried to share some very tips for taking Air Force & Navy Online Exams.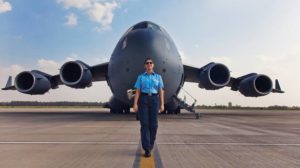 Initial Preparations to Attempt Online Exam:
---
Read instructions mentioned on the admit Card: Before reaching the exam center it is very important to go through the instructions mentioned on the admit card or instructions on your mail ID if sent by the examination authority. Read all the instructions very carefully and plan for it in advance to avoid blunders.
Keep essential documents ready: As per the instructions of authorities keep your admit card, Original ID proof and stationery with you. Also, follow the dress code guidelines if suggested for the candidates during the exam.
Read and understand the exam/test guidelines: This is the most important part of an online exam. An aspirant has to understand the scheme of the question paper by reading the exam instructions carefully before clicking on the "start the exam" radio button as different papers have different schemes i.e. some exams have their sectional cut-off while some of the exam demands to clear the overall cut off of the exam.
Know the test format: Understand carefully the types of questions asked in the exam, which may include multiple-choice, fill-in, short answer, essay? Perhaps a combination of various types?
Practice Test: If any practice test is available before the online exam, take it. This may help you to understand the layout of the test window, how the questions will appear? Options to mark or skip the questions. Option to recheck the skipped questions. How to log in to the test ID and submit the exam after completion.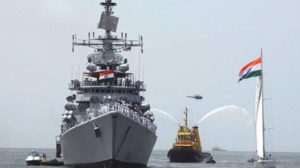 During the Practice of Online Mock Test at home:
---
Keep an eye on the clock: Always keep an eye on the top right corner where a digital watch is displayed in the HH:MM:SS format so that you could maintain your pace to solve the question paper and the same has to be followed during the main online test too.
Firstly attempt the section in which you have done excel: If you are a science student then your approach to solving the test should be Maths/Aptitude-> Reasoning->English->G.K moreover if you from Arts background then, in that case, your approach scheme should be G.K->English->Reasoning->Maths/Aptitude.
Divide the time : Divide the total minutes of exam duration by the total no. of questions and plan your time to devote per question and if the question is taking more than that particular time to solve it, which you decided initially then immediately skip to the next question and start solving it.
Negative Marking: Nowadays all the exams have the penalty (Negative Marking) for attempting wrong answers. To avoid negative marking you should not answer/try to answer questions where you are not 100% sure. If you still ignore it and attempt doubtful questions more and more, it can be a great loss for you. Only attempt the questions where you are 100% confident.
Don't leave the test page: If you are attempting the mock test then do not leave the test page tab and take the exam as if you are sitting in the exam hall. Do not open the new tab to browse anything during the test. You can go to full-screen mode to avoid the distraction. Once you are finished up with the test and its analysis then start browsing for any question you were willing to gather information.
Environment Mode while attempting the mock test: While attempting the mock test at home, isolate yourself from the surrounding as there is always some household activities which might keep you disturbing so sit alone with your laptop and switch off your mobile phone then start the test.
Assess your own progress: How do you believe you did? What questions did you find confusing? Did you have to skip anything? Return to your notes and readings, and see if you can find the answers to the questions that challenged you.
Check your answers: After the exam, you may check your tentative score by discussing it with your friends and teachers. Identify the doubtful questions and check the score as per the total number of questions attempted by you.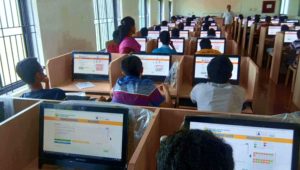 On Exam Day:
---
Keep your essentials Ready: Do not forget to bring your essentials about which you had gone through on the instruction page of the admit card.
Check your computer: Avoid last-minute problems! Kindly ensures that your allotted computer has all the hardware in the working condition. If not, report to the invigilator/examiner immediately.
Plan your time: Time management is a very important strategy for any exam. Make advance time management planning, keeping your level of preparation in your mind. Decide how long you will spend on each question/section. (e.g. if the test is one hour long, make planning according to the sections/subjects or difficulty levels).
Technical problems? Don't panic: Don't get panic for any technical issue, but do contact your examiner immediately, detailing the exact problem that occurred and any error messages you might have received. If you can take a screenshot, that is helpful as well.
Take a deep breath: Once you're logged in, take a moment to relax and get focused.
Re-check your paper before you submit it: Ensure that every answer is complete and appears as you intended. Review all the questions that you had attempted and not attempted. Also, try to attempt the questions if time is left with you which you had skipped earlier.
Click submit: You should only need to do so once, but if you have a problem, try once more. If you still have a problem submitting the test, let your examiner know immediately.
You can subscribe to the online test series also provided by many portals. This will help you to minimize the error while online exams and improve your confidence level. Practicing online exam before your final exam will also help you in better time management, improving exam skills, confidence, understanding the real-time situation, and how to score more.
To practice sample online exam please click on the below-given links, create your account and practice online exams conducted by Air Force and Navy.
For any query about any defence written exam and interview preparation or to know more Tips for taking Air Force & Navy Online Exams, you may visit our center to get free counseling/guidance or call us on 8448446620.
Good Luck!
Team Rashtra Defence Academy
Also, Read: