Here's a list of Various Fighter Aircraft with Indian Air Force. The active fighter jets owned by the Indian Air Force also called the multi-role fighters and strike aircraft, from Sukhoi Su30MKI to the Tejas LCA.
SU-30 MKI:
---
Twin seater twin-engine multirole fighter of Russian origin which carries One X 30mm GSH gun along with 8000 kg external armament. It is capable of carrying a variety of medium-range guided air to air missiles with active or semi-active radar or Infrared homing close range missiles. It has a max speed of 2500 km/hr (Mach 2.35).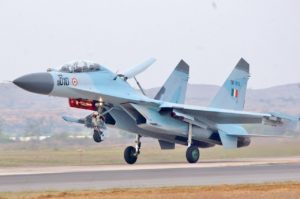 Mirage-2000:
---
A single-seater air defence and multi-role fighter of French origin powered by a single-engine can attain a maximum speed of 2495 km/hr (Mach 2.3). It carries two 30 mm integral cannons and two matra super 530D medium-range and two R-550 magic II close combat missiles on external stations.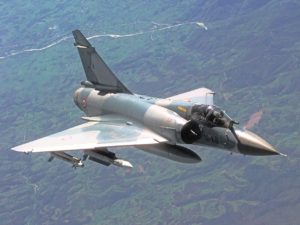 MiG-29:
---
Twin engine, single seater air superiority fighter aircraft of Russian origin capable of attaining max. speed of 2445 km per hour (Mach-2.3). It has a combat ceiling of 17 km. It carries a 30 mm cannon along with four R-60 close combat and two R-27 R medium-range radar-guided missiles.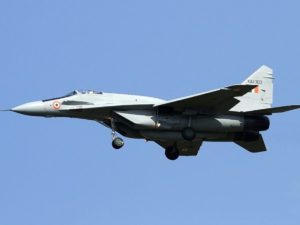 MiG-27:
---
Single engine, single-seater tactical strike fighter aircraft of Russian origin having a max. speed of 1700 km/hr (Mach 1.6). It carries one 23 mm six-barrel rotary integral cannon and can carry up to 4000 kg of another armament externally.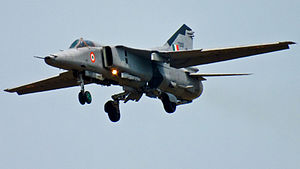 MiG-21 BISON:
---
MIG-21 BISON is a single-engine, single-seater multirole fighter/ground attack aircraft of Russian origin which forms the backbone of the IAF. It has a max speed of 2230 km/hr (Mach 2.1) and carries one 23mm twin-barrel cannon with four R-60 close combat missiles.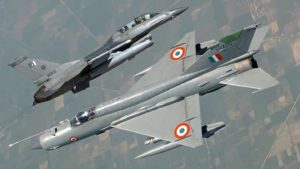 Jaguar:
---
A twin-engine, single-seater deep penetration strike aircraft of Anglo-French origin which has a max. speed of 1350 km /hr (Mach 1.3). It has two 30mm guns and can carry two R-350 Magic CCMs (overwing) along with 4750 kg of external stores (bombs/fuel).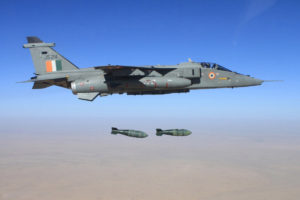 HAL Tejas LCA:
---
India has long borrowed its fighter jets from countries like Russia, France, and Britain under a license agreement to manufacture it locally by Hindustan Aeronautics Limited. However, back in the 1980s, the HAL started the Light Combat Aircraft (LCA) programme to replace the ageing Soviet sourced MiG-21. With India's former Prime Minister giving the LCA its name – Tejas – the 1st indigenously built fighter aircraft was inducted in the Indian Air Force with the IAF placing a 20 jet order initially and the 1st Tejas Squadron was formed in 2016 called the Flying Daggers. Till now IAF has placed an order of 40 Tejas Mk 1, including 32 single-seat aircraft and eight twin-seat trainers. IAF has also initiated the procurement of a further 73 single-seat fighters in Mk 1A configuration.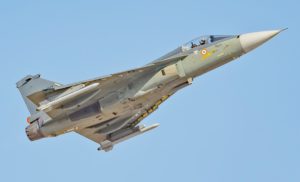 Also, read: