As an Indian Army Soldier, you'd be looking at a lifestyle that one cannot imagine in any other profession, so early in life. Army offers you challenge, adventure, excitement, honor, prestige, self-respect, wholesome family life, safety and security for the family and to top it all the love, respect, and esteem of our great India. In the somewhat chaotic social and economic conditions that prevail in our country, Army life is an island of sanity and social order that is the envy of our countrymen. Quality of life is an important attribute of Army life and has no parallel in any other service. Through this article, we have covered the Indian Army GD Eligibility Criteria & Selection Procedure.
Army offers brilliant career. Every year 30-35 lakh individuals appear for recruitment in the Army, which offers the role of a leader, opportunities full of diverse challenges, a distinctive career to serve the nation, handsome salary, adventure, sports, altruism, sacrifice and no end to this.
The unique career offers the following facilities to Army General Duty Soldiers & Other Ranks:
Salary in five figures
Free medical facilities for self and dependents.
Leave up to 90 days in a year.
Free railway warrants.
Free Government married accommodation.
Entitled Ration.
Free Uniform/Clothing etc.
CSD facilities.
Lucrative Terminal benefits.
Opportunities to learn and grow as a complete human being.
About Soldier (General Duty):
---
Soldier (General Duty) is the backbone of the Indian Army and consists mainly of fighting troops apart from other trades. Soldier GD could be enrolled in Arms or Services. The duties will be as under:-
Arms: In Arms, Soldiers could join the Infantry, Artillery, Armoured Corps, Engineers or Army Air Defence (AAD) as fighting troops, drivers, operators, gunners, etc. and many other General Duties.
Services: In Services Soldiers could be enrolled in Army Service Corps (ASC), Army Ordnance Corps (AOC), Army Medical Corps (AMC) on General Duties, operators, drivers, etc.
Soldier (General Duty) Women Military police: Indian Army has started the recruitment of women as the Soldier- General Duty from 2019. The first recruitment drive has been completed for the 100 posts in 2019. As Soldier- GD women can join only Indian Military Police.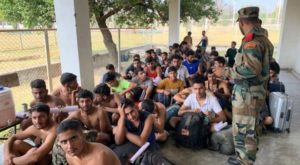 Eligibility Criteria:
---
Education Qualification: Class 10th / Matric pass with Minimum 45% marks in aggregate and Minimum 33% in each subject.
Age: 17 ½ – 21 Years (Upper Age limit will be relaxable up to 30 yrs of age (as on date of joining training) in respect of widows of Defence personnel who have died in harness.)
Physical Criteria: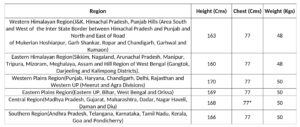 Candidates having special certificates like relation and sports certificates get concession in physical standards while recruitment. The following table shows the concession for those having special certificates:
| | | | |
| --- | --- | --- | --- |
| Certificate | Height (in Cms.) | Chest (in Cms.) | Weight (in Kg.) |
| Relation Certificate | 2 | 1 | 2 |
| Sports Certificate | 2 | 3 | 5 |
| Candidates from Poor Areas | – | – | 2 |
Medical Criteria:

A candidate should have a robust physique and good mental health.
The chest of a candidate should be well developed having a minimum of 5 cms of expansion.
Candidate should have normal hearing with each ear and good binocular vision in both eyes. He should be able to read 6/6 in a distant vision chart with each eye. Colour vision should be CP – III (able to recognize white, red and green signal colors correctly as shown by Martin's Lantern at 1.5 meters).
Candidate should have a sufficient number of natural healthy gum and teeth i.e. minimum 14 dental points.
Should not have diseases like deformity of bones, hydrocele and varicocele or piles.
Soldier General Duty for infantry should have 6/6 eyesight.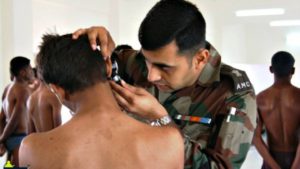 Documents Required at the Rally Site:
---
Educational Certificate / Marksheet issued by the Recognized Education Board.
Residence Certificate with photograph issued by the authorized signatory of the State Government / Tehsildar / SDM.
Caste Certificate with photograph to be signed by Village Sarpanch except in the case of SIKH (Mazbi and Ramdasia), Gujjar and Gorkha candidates wherein it is required to be signed by the authorized signatory of the State Government / Tehsildar / SDM. Candidates belonging to Dogra Community to produce a certificate with photograph issued by Tehsildar / Authorised Government Signatory.
Religion Certificate issued by the authorized signatory of the State Government / Tehsildar / SDM.
School Character Certificate issued by the Schools / Colleges Principal / Headmaster.
Character Certificate with photograph issued by the Village Sarpanch / Municipal Corporation / Police issued within the last six months.
Unmarried Certificate with photograph issued by Village Sarpanch / District Administration issued within the last six months (If a candidate is below 21 years of age).
Relationship Certificate issued by concerned Records Office (Applicable for only the Son of Serving Soldiers / Widows / War Widows and Ex-servicemen).
NCC A / B / C Certificates. In the case of NCC Certificate holders relevant certificates and a certificate for participation in the Republic Day Parade to be produced for dispensation.
Sports Certificate to be produced if represented in the following

Represented India at the International level.
Represented State at National Level.
Represented District at National Level.
Represented University Team or Regional Team at District Level.

Candidates having O+ Level Computer Certificate 'Business Professional Programmer' issued by the DOEACC Society.
Latest passport size photographs. Both the ears of the candidates must be visible and SIKH (Mazbi and Ramdasia) candidates must have a photograph in the turban and without the turban.
Kandi area certificate for applicable candidates to be issued by Tehsildar/Authorised Government Signatory.
Note: Documents mentioned in points 1 to 11 above are required in original along with one photocopy of each document duly attested by Principal / Headmaster / Gazetted Rank Officer. Attested photocopy/printout of education certificate obtained from the Internet duly attested by the school Principal will be accepted at the Rally site for candidates whose original certificates have not been received from the concerned education board after declaration of the result or for candidates who have deposited their certificates in some other institute where they might be undergoing some professional course.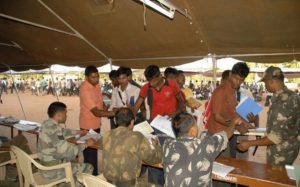 Physical Fitness Test (PFT):
---
To determine the Physical Fitness Test (PFT), the following tests carrying 100 marks are held:
1.6 Km Run
Pull-ups
Balance
9 Feet Ditch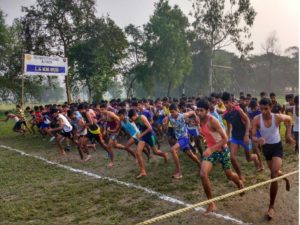 MARKING SYSTEM IS AS FOLLOWS
1.6 Km Run For Soldier GD:
Timings
Group
Marks
Up-to 5 Mins 30 Secs
Group-I
60 Marks
From 5 Mins 31 Secs to 5 Mins to 45 Secs
Group-II
48 Marks
Above 5 Mins 45 Secs
Fail
Provisions for Extra Time for 1.6 Km Run in Hilly Terrain.
1. Between 5000 Ft to 9000 Ft – Add 30 Secs to all timings.
2. Between 9000 Ft to 12000 Ft – Add 120 Secs to all timings.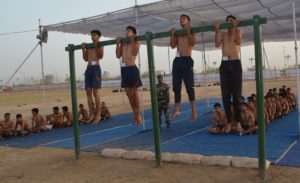 | | |
| --- | --- |
| 10 and above | 40 Marks. |
| 9 | 33 Marks. |
| 8 | 27 Marks. |
| 7 | 21 Marks. |
| 6 | 16 Marks. |
Zig-zag Balance: Zig-zag balance should qualify and no marks are awarded for it.
9 Feet Ditch Jump: Candidates have to jump over 9 feet long ditch. This has to qualify and no marks are awarded.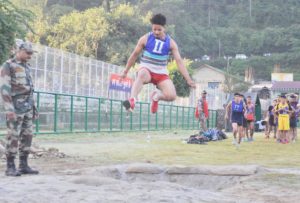 Criteria for Women Military Police:
---
| | | |
| --- | --- | --- |
| Timings | Group | Marks |
| Up to 7 Mins 30 Secs | Group-I | 60 Marks |
| Up to 8 Mins | Group-II | 48 Marks |
| Above 8 Mins | | Fail |
Long Jump of 10 Feet: Should have to qualify only.
High Jump 3 Feet: Should have to qualify only.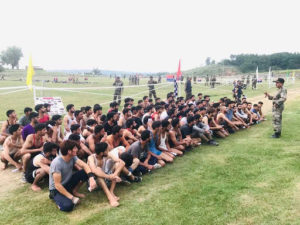 Dispensation in Physical Standards:
---
Physical Standards

Height (Cms)
Chest (Cms)
Weight (Kgs)
Sons of Servicemen / Ex-Servicemen / War Widows / Widows of Ex-Servicemen.
2
1
2
Adopted son/son–in–law of a War Widow, if she has no son including a legally adopted son of service Soldier / Ex-Servicemen
2
1
2
Women Military Police
(i) Daughter of Servicemen (DOS), Daughter of Ex-Servicemen (DOEX), Daughter of War Widow (DOWW), Daughter of Widow of Ex-Servicemen (DOW)(ii) Adopted daughter/daughter-in-law of a war widow, if she has no daughter including a legally adopted daughter of serving soldier/ Ex-Servicemen(iii) Widows of Def pers who have died in harness
2
–
2
Outstanding sportsmen (National / State level who have secured 1st / 2nd Position in last two years)
2
3
5
For candidates belonging to chronically poor areas and those desirous of joining overage categories who are from families engaged in traditional professions. This relaxation may be given at the discretion of DDG Recruiting (States) or Centre Commandants.
NIL
NIL
2
Note: An eligible candidate can be granted prescribed relaxations in all three measurements i.e. Height, Chest and Weight. However, he cannot claim dispensations of more than one category i.e. parental and sportsmen.
Common Entrance Examination (CEE):
---
After qualifying the Physical Fitness Test (PFT) and medical round, a candidate has to appear for the written exam i.e. Common Entrance Exam (CEE). Most of the candidates feel afraid of the written exam, they usually qualify the physical and medical round but the written exam is one of the toughest rounds. CEE (Common Entrance Examination) date is given in the admit card during the medical test.
General Duty exam pattern will be based on the level of matriculation (10th).
| | | | |
| --- | --- | --- | --- |
| Topics | No. Of Question | Time Duration | Marks |
| General Knowledge (GK), General Science (GS), Mathematics | 50 | 60 min (1 Hrs) | 100 Marks |
Note: Negative marking will be applicable. Each question will carry equal marks and each question will consist of 2 marks. Passing marks for GD (General Duty) is 32% (32 marks).
For every right answer, 2 marks will be given.
For every wrong answer, 1/2 marks will be detected.
For leaving question blank neither marks will detect nor given.
Candidates having the NCC "C" certificate have an exemption of CCE (Common Entrance Exam). These candidates get selection on the basis of Physical Efficiency Test and Medical only.
Instant Enrollment:
---
Instant enrollment is provided into the Army as Soldier (General Duty) to the following categories through respective Regiment / Corps Training Centres:
One son of a battle casualty.
One real brother of a battle casualty, when deceased was unmarried / did not have a male child.
One real brother of a battle casualty provided he gets married to the deceased widow who is issueless or has no male child.
One real brother of a battle casualty provided he gets married to the deceased widow who has a male child but who has not attained age for enrollment.
One real son of the battle casualty when the battle casualty has been invalidated out of service on medical ground.
The candidates should meet age, educational qualification, physical measurement, and medical standards. The concessions as applicable to the sons of servicemen/ex-servicemen in physical measurement will also be given in such cases. They will not be put through any formal tests like the Physical Fitness Test and written tests.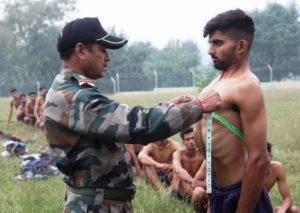 Documents required for Online Application:
---
Matric Certificate: The following details will be filled strictly as per matric certificate

Candidate's Name
Father's Name
Mother's Name
Date of Birth
Matric Certificate number as issued by the Education Board.

Valid Email address: Each candidate is required to have personal Email Id which will be his user Id. All messages will be sent to the Email Id regarding Short Listing, Call Ups, Joining Instruction, Results, etc.
Mobile Number: Each Candidate will be required to have an individual mobile number. The sharing of a mobile number between candidates will not be permitted. OTP key and other messages will be sent to the mobile number.
Details about your State, District, and Tehsil/ Block of Domicile (Only for JCO / OR Enrollment Application).
Scanned passport size photo of size between 10 Kb to 20 Kb in jpg format. This photo will be uploaded on the application form.
Scanned photo of signature of size between 5 Kb to 10 Kb in jpg format. This photo will be uploaded on the application form.
Detailed mark sheet of Class X, and other higher education qualification, required to be filled in the application form as per the eligibility criteria of the category/ entry applied for.
Click on the link to apply online www.joinindianarmy.nic.in
Do's:
---
Before Rally

Prepare at least 2-3 months in advance for 1.6 Km run and other physical tests.
Prepare necessary documents as required.
Clarify doubts/ queries from the nearest Recruitment Office.
Get minor medical ailments treated to avoid rejection.
Go through 'eligibility' requirements thoroughly to apply for the most suitable trade/category.
Rectify any anomalies in your documents before rally (e.g. variation in name in 10th and 12th Marks sheet).
Prepare for the Tradesmen Aptitude Test (if applying for the same).
After Rally

Report and get a medical review done in time (Permanent Unfit Cases- 21 days, Temporary Unfit Cases- 42 days).
Prepare for written exam CEE (Common Entrance Exam).
Check the date of results and check personally results either through IVRS or your ARO.
If selected, submit relevant documents in time and report for dispatch to training centers on due date with necessary belongings.
Dont's:
---
Before Rally

Do not come to rally with incorrect or fake documents.
Do not approach anybody other than Recruitment Office Staff for clarification regarding recruitment.
Do not come to rally with major medical ailments/ injuries or if operated upon recently and wounds not yet healed.
Do not pay heed to anyone claiming to get you recruited.
During Rally

Do not get lured by any strangers/touts. Army recruitment is absolutely free and transparent.
Do not run on a date not allotted for your district or trade.
Do not carry mobile handsets or costly personal belongings to the rally site.
Do not fight or argue with other candidates/ recruitment staff.
Do not litter the rally site inside or outside. Do not damage public/ private property.
Do not misbehave with the public and women in particular.
Do not indulge in any anti-social activity.
After Rally

Do not travel atop bus or train while coming to or going from rally location.
Do not be late for medical review to the nominated Military Hospital.
Do not be late for CEE or absent for result declaration. The result will not be disclosed to anyone else on your behalf.
Do not be late/ absent for dispatch to the Training Centre.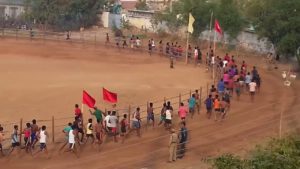 Beware of Touts:
---
Please be Wary of Touts (Dalal). They cannot influence the recruiting procedure at all. They are liars and take advantage of your lack of knowledge of the recruiting procedure. Army recruiting is absolutely free, fair and totally merit-based. An individual having the required qualifications and capability will get selected on his own steam. No one can change the procedure to push in undeserving candidates since the procedure has stringent checks and balances and mostly automated. Therefore when you go for recruitment, have self-belief. Anyone offering a guarantee of recruitment must be reported to the police or the rally officials immediately. Over a period Army has identified many methods a tout adopts to lure candidates. They are given below for you to ward off any such offers.
Likely Victim: Before a tout target a candidate, he checks the candidate thoroughly. Normally he selects boys who are physically fit with no medical problems and would in all probability be good in studies. Such candidates generally pass on their own steam. He gives false assurances and says "You just pass the run. I will get the rest of it done." When a candidate passes, in such a case, the tout will take the credit. If the candidate gets rejected, the tout returns the money or at least a major part of it with a lie that "some money, I can't give back since I gave it to officials. However, they have assured me that they will definitely do something next time since there was a lot of strictness this time".
Tricks To Acquire Candidates Trust: The tout will do anything to acquire the candidate's faith so that they give him money easily e.g. in the middle of a recruitment rally, the tout will go up and make a deliberate effort to shake hands with recruiting personnel claiming to be an ex-serviceman or any other identity. Mind you, he will want you (candidate) to notice this and then he capitalizes on this handshake.
Telling Candidates False Indicators: Tout will misleadingly say "wear this colored vest (baniyan)/Shorts, I've told the people concerned. They won't ask you anything but will know that you are my man." or "When you go for the interview of the Director Recruiting, say 'Namaste' or touch his feet. He will understand."
No one but only you can make it through the recruitment process if you have the qualification and capability. Don't lose your parent's hard-earned money to unscrupulous touts.

Also, See: