Military nurses have a number of the same responsibilities as traditional nurses. However, they are not only educated in basic nursing skills, but they're also trained on how to work with military patients and how to work in a military environment. It's not uncommon for military nurses to work right alongside military personnel in war zones. One of the most dangerous and difficult aspects of a military nursing career is caring for deployed members of the military during wartime. This often includes treating severe life-threatening injuries, such as gunshot wounds or lost limbs. Because of the severity of the injuries that they may encounter as well as the volatile work environment, military nurses must be able to keep a cool head under pressure. Life-saving skills are also essential skills to have if you're looking to pursue a military nursing career.
Military nurses also care for current and past members of the military and their families during peace-time as well. For instance, they may help soldiers that were wounded in the line of duty recover from their injuries. They may also treat patients suffering from common medical problems, ranging from the common cold to a sprained ankle to cancer.
Serving in the military is an extremely stressful job, to say the least. Because of this, military nurses must not only care for the physical needs of their patients but also the emotional and mental well-being.
Through this article, we have shared all the information about how to join the Military Nursing Service- B.Sc. (Nursing) Course, eligibility criteria, selection Procedure, course duration, job responsibilities, etc.

Who Can Join Military Nursing Service?
---
Only female candidates can join MNS (Military Nursing Service). In the initial days of their joining as MNS they are responsible for taking care of the Military Hospital and after that get promotion and up to the chief Nurse which is equivalent to "A" grade Officers.
Eligibility Conditions:
---
Female candidates who are unmarried/divorcee/legally separated/ widow without encumbrances.
Nationality: Citizen of India
Age: The age for MNS candidates must be between 17 to 25 years.
Educational Qualification: Candidate must have passed in the first attempt, Senior Secondary Examination (10+2) or equivalent (12 Years schooling)
examination with Physics, Chemistry, Biology (Botany & Zoology) and English with not less than 50% aggregate marks as a regular student from a Statutory /
Recognized Board /University/ Examination Body. Candidates who will be appearing for the final year of qualifying examination during the current academic
session may also apply provisionally. The candidates finally selected for the course will have to submit proof of passing the qualifying examination with requisite subjects and marks before joining the Course.
Physical standards: Medical fitness will be determined as per standards applicable for commission in the Armed Forces as amended from time to time.
X-Ray examination of Chest and USG (of abdomen & pelvis) will be done. The minimum height required for entry into Armed Forces for female candidates is 152 cm. Gorkhas and candidates belonging to the North-Eastern region of India, Garhwal, and Kumaon will be accepted with a minimum height of 148 cm. Details of medical standards can be seen in the Indian Army websites www.joinindianarmy.nic.in.
Selection Procedure:
---
Written Test: Eligible applicants have to appear for objective type Online Computer Based Examination of 90 minutes duration. The written test consists of objective type questions based on covering General English, Biology, Physics, Chemistry, and General Intelligence. There is no negative marking. The result of successfully shortlisted candidates is declared online on the army website with the instructions for the interview.
Interview & Medical Examination: On the basis of merit of Online Computer Based Examination, candidates will be called for interview & medical examination at selected centers. Candidates declared FIT/UNFIT in the medical examination will be informed about their medical status, including the procedure of requesting for APPEAL/REVIEW MEDICAL BOARD by the President of the Selection Medical Board (SMB).
Final selection will be based on the combined merit of Online Computer Based Examination & Interview, subject to medical fitness of the candidate, choice & vacancy in each College.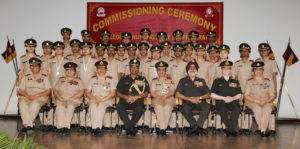 How to apply:
---
Candidates may apply and pay the application fee online through www.joinindianarmy.nic.in. The candidate's E-mail ID is the user ID for this website and the candidate will select her own password. Candidates must remember their username & password for further correspondence.
Only the Eligible candidates will be able to pay the online application processing fee of Rs 750/- (Rupees seven hundred and fifty only). On successful
completion of online payment, a bank reference number (DU Number) will be generated for the future correspondence of the candidate.
The Admit cards for Online Computer Based Examination will be made available on www.joinindianarmy.nic.in.
Course Details & Terms:
---
Selected candidates get admission to 4 years B Sc. (Nursing) Course at Colleges of Nursing of Armed Forces Medical Services. Final selected candidates will get admission in Colleges of Nursing based on the merit cum choice, subject to medical fitness, and the vacancies in each College.
The selected candidates shall execute an Agreement/Bond to serve in the Military Nursing Service. On successful completion of nursing training (4years), the candidates get the Permanent/Short Service Commission in the Military Nursing Service, under the terms and conditions laid down for grant of such commission. They shall have to refund the bond money as per the bond executed in the event of withdrawal from the Course, termination of training or refusal to accept the commission in the MNS if offered. During the training, they get free ration, accommodation, uniform allowance, and monthly stipend as per terms and conditions as amended from time to time.
Subsequent to passing the final year University examination for B.Sc. (Nursing) Course, the candidates get Commission in the Military Nursing Service subject to medical fitness. The date of declaration of result from respective Universities will be the date of Commission for the candidates. The date of the Commission determines the date of seniority in service among all candidates who have joined the Course in the same year. Six Colleges offer MNS course are as below:-
College Of Nursing, AFMC Pune
College Of Nursing, CH(EC) Kolkata
College Of Nursing, INHS Asvini
College Of Nursing, AH (R&R) New Delhi
College Of Nursing, CH (CC) Lucknow
College Of Nursing, CH (AF) Bangalore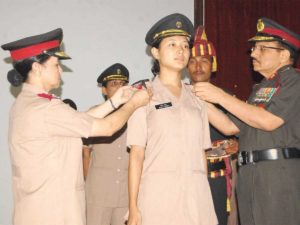 Rank Structure:
---
The various ranks of the Military Nursing Service are as given below in descending order:
Major General- By selection
Brigadier- By selection
Colonel- By selection
Lieutenant Colonel- By selection (Lt Col Time Scale- after 16 Years of reckonable commissioned service)
Major- Eight Years of reckonable commissioned service
Captain- Three Years of reckonable commissioned service
Lieutenant- On entry
Presently there is no personnel equivalent to JCOs/OR in the Military Nursing Service as the other para-medical personnel such as Nursing Assistants and Ambulance Assistants are part of the Army Medical Corps.

Also, See: