The Indian Navy on 5th May 2020 launched Operation 'Samudra Setu' (meaning 'Sea Bridge'), as a part of national effort to repatriate Indian citizens from overseas amid coronavirus COVID-19 lockdown. Indian Naval Ships Jalashwa and Magar are currently en route to the port of Male in the Maldives to commence evacuation operations from May 8 as part of Phase-1.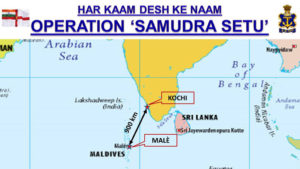 The Centre has been closely monitoring the situation with respect to the effect of COVID-19 pandemic on Indian citizens abroad. The Indian Navy has been directed to make suitable preparations for their evacuation by sea.
The Indian Mission in the Maldives is preparing a list of Indian nationals to be evacuated by Naval ships and will facilitate their embarkation after the requisite medical screening. A total of 1,000 persons are planned to be evacuated during the first trip, catering for COVID- related social distancing norms vis-a-vis the carrying capacity and medical facilities available onboard.
The ships have been suitably provisioned for the evacuation operation. The evacuated personnel would be provided with the basic amenities and medical facilities during the sea-passage. In view of the unique challenges associated with COVID-19 stringent protocols have also been stipulated.
The evacuated personnel will be disembarked at Kochi, Kerala and entrusted to the care of state authorities. This operation is being progressed in close coordination with Ministries of Defence, External Affairs, Home Affairs, Health and various other agencies of the Centre and state governments.
Why the Indian Navy Choose INS Jalashwa & INS Magar?
---
INS Jalashwa will take two days to reach Male, while INS Magar will reach the Maldives on May 10. The two ships are to help in evacuating around 1,000 Indians from the country starting May 8 (Friday), with the passengers to disembark in Kochi.
The Indian Navy has carried out similar non-combatant operations overseas on earlier occasions; Operation Sukoon in 2006 and Operation Rahat in 2015. The choice of these two ships was done as they are both amphibious warfare vessels, designed to land and support ground forces.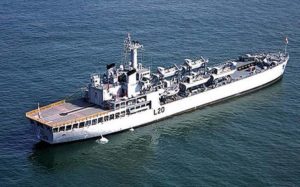 The December 2004 tsunami exposed a critical capability gap in the Indian Navy's inventory to provide humanitarian assistance or disaster relief from undeveloped or semi-developed coastlines. A defence official explained that the launching of ground forces to sustain operations ashore in a hostile environment is an important task for the Indian Navy.
While traditionally such capability has existed in the Navy through conventional amphibious vessels, in contemporary times such operations are best conducted by vessels capable of stand-off beaching—the capability to offload men and equipment without coming close to shore.
Such ships are called expeditionary operations platforms. Most ships carrying relief material have a small helicopter, like the Chetak, as well as small boats with limited load-carrying capability.
Ships such as destroyers and frigates, though loaded with relief supplies and disaster relief bricks, required berths and jetty cranes which can be located at a considerable distance from the disembarking site, according to a naval officer.

Also, See: