Today, Indian Armed Forces paid tribute to Corona Warriors who have been fighting for the last 2 months to overcome this Pandemic. The Indian Air Force and Indian Navy demonstrated a symbolic show of thanks to front-line workers battling the Covid-19 pandemic, as helicopters from the IAF and the Indian Navy fly over hospitals treating coronavirus patients showering flower petals as a tribute.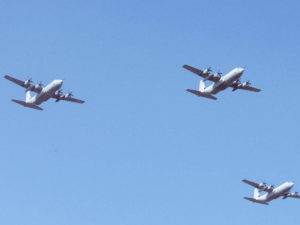 "During the current crisis, it is the doctors, nurses, policemen, media, sanitation workers, delivery personnel, bank employees, government employees and local store owners who have put their lives on the line to ensure that we as a nation are protected and cared for adequately," said Army PRO Colonel Aman Anand.
Chief of Defence Staff Gen Bipin Rawat on Friday announced that the three services will carry out a series of activities to thank the "corona warriors".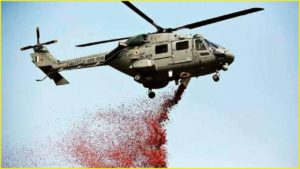 The thanks-giving activities started with laying of wreaths at the national police memorial in Delhi to honour the police personnel deployed in the enforcement of the nationwide lockdown, officials said.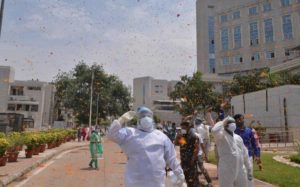 Besides Delhi, the Indian Air Force is carrying out fly-pasts in several other cities including Mumbai, Jaipur, Ahmedabad, Guwahati, Patna and Lucknow, Srinagar, Chandigarh, Jaipur, Bhopal, Hyderabad, Bengaluru, Coimbatore, and Thiruvananthapuram, they said.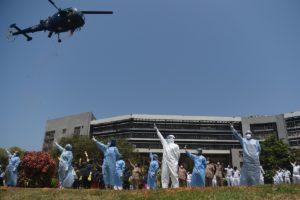 Today, the nation has witnessed flypasts by fighter and transport aircraft of the Indian Air force at multiple locations.
Military bands are also playing "patriotic tunes" outside various civil hospitals treating coronavirus patients across the country.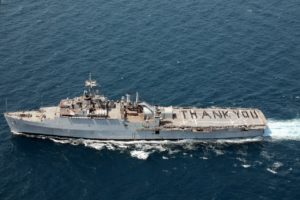 The Eastern Naval Command and the Western Naval Command are illuminating a number of ships at anchorage from 7.30 pm to midnight.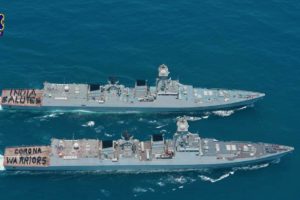 Also, See: