As an Indian Army Soldier, you'd be looking at a lifestyle that one cannot imagine in any other profession, so early in life. Army offers you challenge, adventure, excitement, honor, prestige, self-respect, wholesome family life, safety, and security for the family and to top it all the love, respect, and esteem of our great India. In the somewhat chaotic social and economic conditions that prevail in our country, Army life is an island of sanity and social order that is the envy of our countrymen. Quality of life is an important attribute of Army life and has no parallel in any other service. Through this article, we have covered the Indian Army Soldier Technical Eligibility Criteria & Selection Procedure.
Army offers brilliant career. Every year 30-35 lakh individuals appear for recruitment in the Army, which offers the role of a leader, opportunities full of diverse challenges, a distinctive career to serve the nation, handsome salary, adventure, sports, altruism, sacrifice, and no end to this.
The unique career offers the following facilities to Army General Duty Soldiers & Other Ranks:
Salary in five figures
Free medical facilities for self and dependents.
Leave up to 90 days in a year.
Free railway warrants.
Free Government married accommodation.
Entitled Ration.
Free Uniform/Clothing etc.
CSD facilities.
Lucrative Terminal benefits.
Opportunities to learn and grow as a complete human being.
About Army Soldier Technical:
---
The army has a large collection of weapons, vehicles, equipment that are required to be operated and maintained on a regular basis. Therefore the Army requires candidates with a science background and aptitude for electrical, mechanical, and other technical fields. With the introduction of modern weaponry in the Indian Army, it raised the requirement of people with technical skills to take care and maintain these weapons and equipment. Nowadays, many candidates all around the country apply for the Army Soldier Technical Trade but many of them actually are not aware of the job responsibilities of Soldier Technical. Soldiers Technical are mainly recruited for branches like Technical Arms, Artillery, Army Air Defence.
Of all the trades, technical trade is considered as the toughest. According to the research, only 33% of the total candidates apply for technical trade. It's not just the hardship of this trade that stops candidates from applying, but various other factors like education qualifications, physical eligibility, etc. plays a vital role too.
Eligibility Criteria:
---
Education Qualification:

Soldier Technical: 10+2/Intermediate Exam pass in Science with Physics, Chemistry, Maths, and English with min 50% marks in aggregate and min 40% marks in each subject
Soldier Technical (Aviation & Ammunition Examiner): 10+2/Intermediate Exam pass in Science with Physics, Chemistry, Maths, and English with min 50% marks in aggregate and min 40% marks in each subject

Age: 17 ½ – 23 Years
Physical Criteria: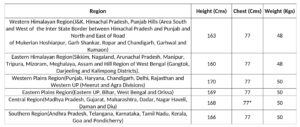 Medical Criteria:

A candidate should have a robust physique and good mental health.
The chest of a candidate should be well developed having a minimum of 5 cms of expansion.
Candidate should have normal hearing with each ear and good binocular vision in both eyes. He should be able to read 6/6 in a distant vision chart with each eye. Colour vision should be CP – III (able to recognize white, red, and green signal colors correctly as shown by Martin's Lantern at 1.5 meters).
Candidate should have a sufficient number of natural healthy gum and teeth i.e. minimum 14 dental points.
Should not have diseases like deformity of bones, hydrocele and varicocele or piles.
Soldier General Duty for infantry should have 6/6 eyesight.
Documents Required at the Rally Site:
---
Educational Certificate / Marksheet issued by the Recognized Education Board.
Residence Certificate with photograph issued by the authorized signatory of the State Government / Tehsildar / SDM.
Caste Certificate with photograph to be signed by Village Sarpanch except in the case of SIKH (Mazbi and Ramdasia), Gujjar and Gorkha candidates wherein it is required to be signed by the authorized signatory of the State Government / Tehsildar / SDM. Candidates belonging to Dogra Community to produce a certificate with photograph issued by Tehsildar / Authorised Government Signatory.
Religion Certificate issued by the authorized signatory of the State Government / Tehsildar / SDM.
School Character Certificate issued by the Schools / Colleges Principal / Headmaster.
Character Certificate with photograph issued by the Village Sarpanch / Municipal Corporation / Police issued within the last six months.
Unmarried Certificate with photograph issued by Village Sarpanch / District Administration issued within the last six months (If a candidate is below 21 years of age).
Relationship Certificate issued by concerned Records Office (Applicable for only the Son of Serving Soldiers / Widows / War Widows and Ex-servicemen).
NCC A / B / C Certificates. In the case of NCC Certificate holders relevant certificates and a certificate for participation in the Republic Day Parade to be produced for dispensation.
Sports Certificate to be produced if represented in the following

Represented India at the International level.
Represented State at National Level.
Represented District at National Level.
Represented University Team or Regional Team at District Level.

Candidates having O+ Level Computer Certificate 'Business Professional Programmer' issued by the DOEACC Society.
Latest passport size photographs. Both the ears of the candidates must be visible and SIKH (Mazbi and Ramdasia) candidates must have a photograph in the turban and without the turban.
Kandi area certificate for applicable candidates to be issued by Tehsildar/Authorised Government Signatory.
Note: Documents mentioned in points 1 to 11 above are required in original along with one photocopy of each document duly attested by Principal / Headmaster / Gazetted Rank Officer. Attested photocopy/printout of education certificate obtained from the Internet duly attested by the school Principal will be accepted at the Rally site for candidates whose original certificates have not been received from the concerned education board after declaration of the result or for candidates who have deposited their certificates in some other institute where they might be undergoing some professional course.
Physical Fitness Test (PFT):
---
Though, selection in the Army is a complete process of PFT (Physical Fitness Test), Medical Test & CEE (Common Entrance Examination, but PFT is considered as an important part of Army Bharti. As most of the candidates are eliminated from the competition in this round.
To determine the Physical Fitness Test (PFT), the following tests carrying 100 marks are held:
1.6 Km Run: Candidates are divided into groups and there is no fixed pattern that how many candidates will be there in one group. Most candidates try to reach the Bharti ground as soon as possible so that they could get the benefit of standing in the front row of the group. So one should always try to be in the front row of the group to get a better start in the race.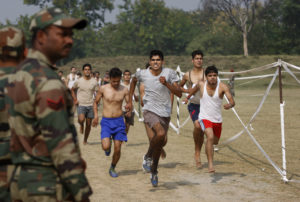 Pull-ups: Right after the race, there comes a pull-ups round. This round is to test the strength of a candidate, and they are not like normal pull-ups, you will need to come up and go down on their instructions which will automatically make it difficult. As per the standards, a candidate has to do at least 6 pull-ups in order to qualify for the next round. The more pull-ups you do, the better it will be. The maximum limit will be 10.
Chest Measurement: After pull-ups, the Chest measurement is done. Firstly, a candidate should satisfy the above-given standards of the chest. If he fails to do so then he will be disqualified. At least there should be an expansion of 5 cms in the chest, else the candidate will be disqualified.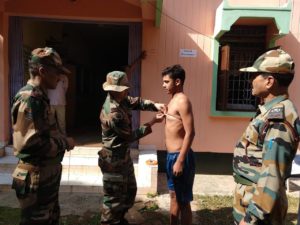 Zig-zag Balance: The balancing round is done to test the agility of a candidate. You will be asked to walk or run slowly on a zig-zag stand. You have to complete it without falling to qualify this round. The zig-zag balance should qualify and no marks are awarded for it.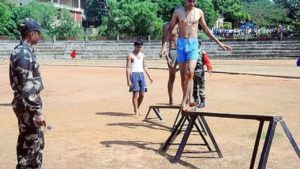 9 Feet Ditch: In this round, a candidate will have to cross a 9 feet long ditch by jumping over it. This round is done to test the courage of a candidate. Candidates have to cross the ditch without falling on it. This is the final round of the Physical Fitness Test. This has to qualify and no marks are awarded.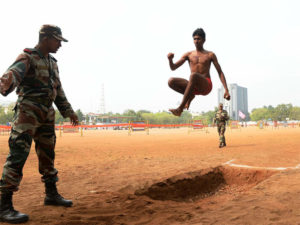 Medical Test:
---
After Physical Fitness Test its come to the Medical Test. In most of the rallies both PFT and Medical Tests are conducted on the same day, but sometimes both the events can be held on two separate days also. To clear Medical Test, it is very important for a candidate to fulfill all the medical conditions mentioned above.
The candidates will go under several medical tests to see if they are medically fit or not. After Physical Fitness Test most of the candidates are rejected in Medical tests due to various medical issues.
Make sure to keep your ears clean before Medical Checkup. Candidates with filthy ears are medically referred, which means that they have to come again after few days for re-medical off course with clean ears. So if you don't want to get in trouble, get your ears cleaned by a professional doctor before PFT.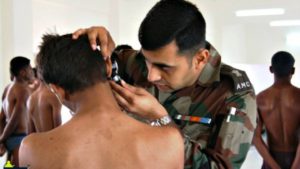 Common Entrance Examination (CEE):
---
After qualifying the Physical Fitness Test (PFT) and medical round, a candidate has to appear for the written exam i.e. Common Entrance Exam (CEE). Most of the candidates feel afraid of the written exam, they usually qualify the physical and medical round but the written exam is one of the toughest rounds. CEE (Common Entrance Examination) date is given in the admit card during the medical test.
The written exam of Technical Trade is considered as the toughest of all the trades. The written exam of Soldier Technical comprises of four subjects namely:
General Knowledge
Physics
Chemistry
Maths
The total number of questions asked in the paper is 50 of the total 100 marks (each question carries two marks). The candidate has to score at least 60 marks to pass the written exam. The questions of physics, Maths, and Chemistry are of the 11th and 12th levels (CBSE pattern). The final selection of a candidate is based on the merit list in the written exam and as per the seats available. So to get through this exam one has to score maximum marks else the hard work done till now will be wasted.
In the Technical Trade final merit list is based on the marks obtained in the written exam only, as PFT is the only qualifying stage here. No marks of PFT are added in the final merit. Therefore one has to focus on CEE to get through on the merit list.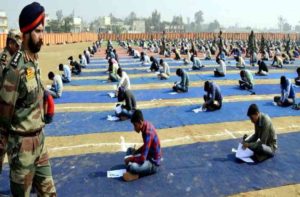 Grant of Additional Bonus Marks:
---
The following Bonus Marks will be awarded on qualifying in the written examination to under mentioned categories :
| | |
| --- | --- |
| Category | Soldier Technical |
| Son of Serving (SOS) Soldier / Ex-Servicemen(SOEX) /Son-in-Law of a War Widow(SOWW) / Son of Widow (SOW) (One son only) | 20 Marks |
| Sportsmen (National / State level) | 20 Marks |
| NCC 'A' Certificate | 05 Marks |
| NCC 'B' Certificate | 10 Marks |
| NCC 'C' Certificate | 15 Marks |
Click Here to download the Model Test Paper of CEE-Soldier Technical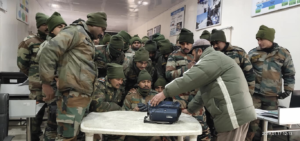 View this post on Instagram

Also, See: